The Swedish annual book FRIIDROTT 2014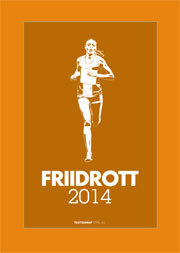 Annual books about athletics covering the year in articles, pictures, results and statistics for a specific country is not very common but a good exception is the Swedish 488 page bible FRIIDROTT. This one – which covers 2013 – is the 54th book since the start in 1961.


In Athletics International Peter Matthews wrote: "A high quality production which covers world and Scandinavian athletics, including detailed championships and major events results with narrative, world outdoor top 50 year and all-time-lists, top 25 Scandinavian and Swedish year and all-time lists plus indoor top tens and record lists for World, Europe, Scandinavia and Sweden."

The first 269 pages consists of articles, pictures and results from the World championships in Moscow, Diamond League, European Indoor Championships in Göteborg, the European Team Championships, all junior championships, Sweden's international matches, national championships and much more. Also special articles about Bohdan Bondarenko, Valerie Adams, Abeba Aregawi, Irene Ekelund etc.

The book ends with a 20 pages long section of records – World, European, Scandinavia and Swedish records for almost all age categories, outdoors and indoors.

The annual book FRIIDROTT is published by TextoGraf Publishing. Jonas Hedman is the editor since 2007.

488 pages, 363 pictures,
hard cover, 170x240 mm. Text in Swedish.

ISBN 978-91-981259-0-0
Price: 64 EUR (598 SEK) including shipment

Order
order@textograf.com

Order old books: Friidrott 2013, 2012, 2011, 2010, 2008, and 2007.
We also have older books from 1961–2006.