The book about the Swedish Athletics Championships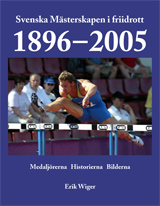 "The Swedish Athletics Championships 1896–2005" is a unique book that includes 110 years, 702 Championships arrangements and 14.500 medallists in all events. For the first time all outdoor medallists are presented with name, club and result complemented with text and pictures.

The book also includes the 50 most frequent medallists of all times no matter which event, the 50 most frequent clubs, portraits of all the big names and lots more.

110 years with Swedish Athletics Championships includes Kajsa Bergqvist (High Jump), Robert Kronberg (110m Hurdles), Anna Söderberg (Discus) and Stefan Holm (High Jump). And also the javelin thrower Eric Lemming, the sprinter Lennart Strandberg and the World record girl "Nora-Anna" Larsson (800m).

In the book you can find the answers to who have the longest winning streaks, which the best clubs are, youngest and oldest winner and much more. Did you know that eight official World records have been set in the Swedish Athletics Championships through the years?


"The Swedish Athletics Championships 1896-2005"
280 pages, 227 pictures, 210*270mm, hard cover.
It's a statistical book with short articles about each event in Swedish. The book was published in July 2006.

$80 (590 SEK) outside Europe (including postage and shipping).
EUR 57 (550 SEK) within Europe (including postage and shipping).
EUR 40 (383 SEK) within Sweden (including postage and shipping).

Order the book by sending an email to order@textograf.com
Or call: ++46 709 99 51 04 (Jonas Hedman)

About the author and the editor
The author Erik Wiger (b. 1941) has been doing research about the Swedish athletics history since 1984. After 22 years he has come so far that it was now time to publish the material.

He has spent thousands of hours and used a lot of sources such as official result lists, newspapers, books, anniversary pamphlets etc in order to find all this information.

During the 70s, Erik was captain for the Swedish Athletics National Team. He was also a member of the board in the Swedish Athletics Association 1995-2003. Erik has a personal record in 3000m steeplechase of 8:54.2 (1962).

The editor Jonas Hedman (b. 1972) is a free-lance writer and statistician specialized in athletics and is regularly contributing to several web sites, magazines and books. In 2006 he was the editor for the European Athletics Championships' web site in Göteborg.



Jonas Hedman and Erik Wiger in Stockholm, April 2006.

Info about the book in Swedish